COOKBOOKS
Click on books for additional information

A Family Farm in Tuscany: Recipes and Stories from Fattoria Poggio Alloro
By Sarah Fioroni
In A Family Farm in Tuscany, Sarah Fioroni, chef, cooking instructor, sommelier, and manager of her family's organic farm near historic San Gimignano, shares stories of family traditions and daily life at Fattoria Poggio Alloro.
In addition to her engaging anecdotes that reveal how life at Poggio Alloro changes from month to month, Sarah shares more than fifty traditional Tuscan recipes that are prepared daily in the kitchen using the farm's seasonal ingredients—from hearty winter dishes to salads and risottos featuring garden vegetables to holiday breads and desserts.

The farm is also a popular agriturismo destination, giving visitors an opportunity to stay overnight, participate in various farming activities, and revel in the tastes of freshly prepared food and artisanal farm products, all in a relaxing, scenic environment that is captured by the book's hundreds of color photographs. Open the pages of this book and visit Poggio Alloro from your favorite chair, then prepare the recipes and experience the taste of Tuscany in your own home.
ISBN 9780940672833
240 pages
Over 300 color photographs
Tradepaper with flaps, $24.95
Publication Date: April, 2012

Lone Star Eats: A Gathering of Recipes from Great Texas Cookbooks
Edited by Terry Thompson-Anderson

It's no wonder that Texans love to eat: the Lone Star State is not only the nation's second largest producer of agricultural products but also one of the richest in culinary diversity. Texas cuisine is defined by the food cultures of the early Mexican, African American, German and Deep South settlers, along with those of more recent immigrants from Asia and other parts of the globe.
In compiling Lone Star Eats, Terry Thompson-Anderson has pored over a vast collection of Texas cookbooks and chosen the best examples of the way Texans eat today. More than 500 favorite recipes are included, from down-home comfort foods with rural roots to sophisticated dishes of urban inspiration. Drawing from more than 65 different cookbooks, published by some of the state's leading chefs and by community organizations such as junior leagues and church auxiliaries, Terry has selected traditional favorites as well as new classics to illustrate the mouth-watering array of good eats that characterize Texas cooking.
ISBN 9780940672765
384 pages
Two-color
Tradepaper with flaps, lay-flat binding, $21.95
Publication Date: October, 2011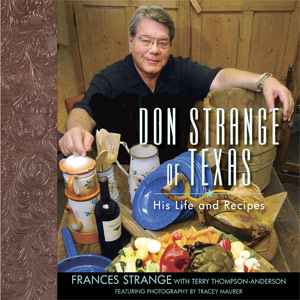 Don Strange of Texas: His Life and Recipes
Frances Strange
with Terry Thompson-Anderson featuring photography by Tracey Maurer
Winner of 2011 Benjamin Franklin Silver and IPPY Bronze Awards
San Antonio catering company Don Strange of Texas, known across the state as "the king of caterers," is acclaimed for serving fresh, delicious food with imaginative flair, even at events attended by thousands of people. From its humble beginnings as a small grocery store and meat market, the business has evolved into an empire of catering venues. This remarkable story is told by Frances Strange, whose husband was the driving force behind the company's success—Don Strange himself. The author reveals Don's innovative genius in cooking and serving party foods, his showman's sense of fun and surprise, and his dogged persistence in overcoming the challenges of feeding huge crowds under adverse conditions. The book contains more than one hundred of the caterer's most popular recipes, adapted for the home kitchen by noted chef Terry Thompson-Anderson. Also included are cooking tips and sample party menus. Tracey Maurer's full-color photographs illustrate selected dishes and the caterer's signature serving style.
ISBN 9780940672819
256 pages, 10 × 10
Over 300 color photographs
Hardcover, $34.95
Publication Date: November, 2010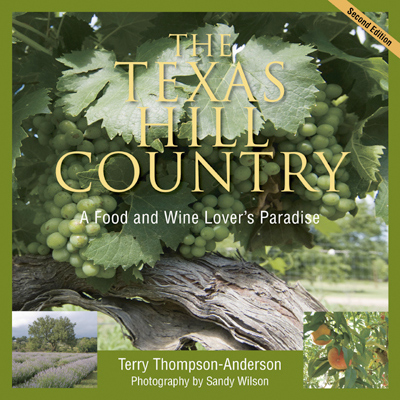 The Texas Hill Country: A Food and Wine Lover's Paradise (Second Edition, Revised April, 2011)
Terry Thompson-Anderson
Photography by Sandy Wilson
Pick a road, any road – a county road, a ranch road. Chances are good that somewhere down that road, you'll come across some remarkable Texas Hill Country food finds: a farm stand selling fresh, homegrown produce; a goat farmer selling hand-crafted goat cheeses; ranchers selling sausages made from game meets; a brewery producing fine beer in the European style of the region's founders; a winery creating world-class wines from grapes grown in Texas; and some fine eateries – from roadside stands to world-class restaurants.
ISBN 9780940672802
156 pages
Paperback with flaps, $19.95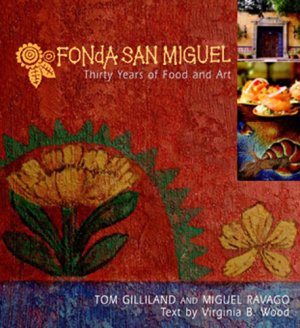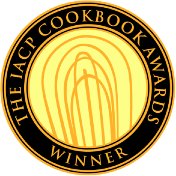 2006 IACP Design Award Winner
Fonda San Miguel: Thirty Years of Food and Art
Tom Gilliland & Miguel Ravago
Text by Virginia B. Wood
Foreword by Diana Kennedy
In celebration of three decades of success, Fonda San Miguel: Thirty Years of Food and Art presents more than one hundred recipes from the restaurant's menus over the years, including many of the signature dishes that have made it one of the Southwest's top restaurants. From appetizers and drinks to desserts and the traditional after-dinner café, the home cook can now prepare a delicious assortment of the restaurant's most popular dishes from Mexico's diverse regional cuisines. Supplementary sections contain tips on buying and cooking with the various ingredients as well as information on basic recipe components, cooking equipment, and mail order sources.
Full-color photographs illustrate special dishes and capture the romantic hacienda-style décor of the restaurant. Selected works from the impressive Fonda San Miguel art collection are also pictured with notes on the artists.
Click here to learn more about the restaurant!
ISBN 0-940672-77-4
240 pages
Hardcover $34.95

Gulf Coast Cooking: Seafood from the Florida Keys to the Yucatan Peninsula
Virginia Elverson
In this collection of over 300 mouth-watering recipes, based on the finfish and shellfish of the Gulf of Mexico, culinary professional Virginia Elverson has skimmed the cream of her own recipe files and those of other food professionals from the Florida Keys to the Yucatan Peninsula. This may be the first cookbook anywhere featuring the resources of a unique body of water and the special dishes of the cooks who live along the shores.
ISBN 0-940672-56-1
208 pages
Hardcover $34.95

Texas Country Reporter Cookbook
Phillips Production, Inc.
In traveling the backroads to gather material for the popular television show "Texas Country Reporter," producer Bob Phillips and his crew have tasted some of the best in Texas Cooking - from crawfish in Mauriceville to chili in Terlingua to sauted tumbleweeds in Clint. In this cookbook viewers from all around the state share their favorite recipes, along with colorful anecdotes about the history of the dish.
ISBN 0-940672-54-5
246 pages, 7x10
Paperback $15.95

Shearer Publishing 406 Post Oak Road Fredericksburg, Texas 78624
Call Us Toll Free 1-800-458-3808
E-mail shearer@shearerpub.com
Copyright © 2012 Shearer Publishing. All rights reserved.