The Texas Hill Country: A Food and Wine Lover's Paradise (Second Edition) Updated April, 2011
Pick a road, any road – a county road, a ranch road. Chances are good that somewhere down that road, you'll come across some remarkable Texas Hill Country food finds: a farm stand selling fresh, homegrown produce; a goat farmer selling hand-crafted goat cheeses; ranchers selling sausages made from game meets; a brewery producing fine beer in the European style of the region's founders; a winery creating world-class wines from grapes grown in Texas; and some fine eateries – from roadside stands to world-class restaurants.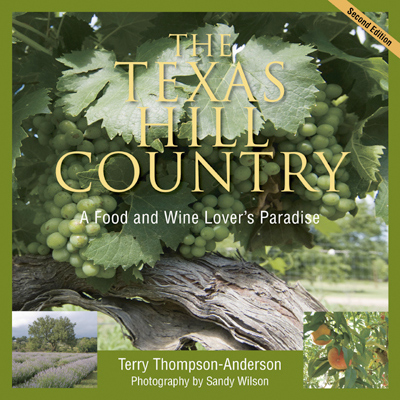 Terry Thompson-Anderson and photographer Sandy Wilson teamed up to celebrate the bounty of the Hill Country. In this full-color book over 100 venues are featured, from peach and grape growers to cheese makers and barbecue stands. Sandy Wilson has also captured some of those fabulous Hill Country views. Included in the book are recipes gathered from proprietors or developed by the author to highlight the local food products.
ISBN# 9780940672802
156 pages
Paperback with flaps, $19.95
Events:
May 7, 2011, 12:30 p.m. Cooking Demonistration, Hill Country Wine and Music Festival at Wildseed Farms, Hwy. 290 E., Fredericksburg http://www.hillcountrywineandmusic.com/
June 3, 2011, 7:00 p.m. Final Competition of Edible Texas Food Wine Match at AT&T Conference Center on University of Texas campus, Austin, Texas. http://edibletexaswinefoodmatch.eventbrite.com/
July 1, 2011, 7 to 9 p.m., First Friday Book Signing, La Vida Gallery, 716 S. Alamo, San Antonio, TX 210.224.3232