Winner of 2012 Living Now Gold Book Award for Cookbooks/Ethnic/Holiday
A Family Farm in Tuscany:
Recipes and Stories from Fattoria Poggio Alloro
Translated by Natalie Danford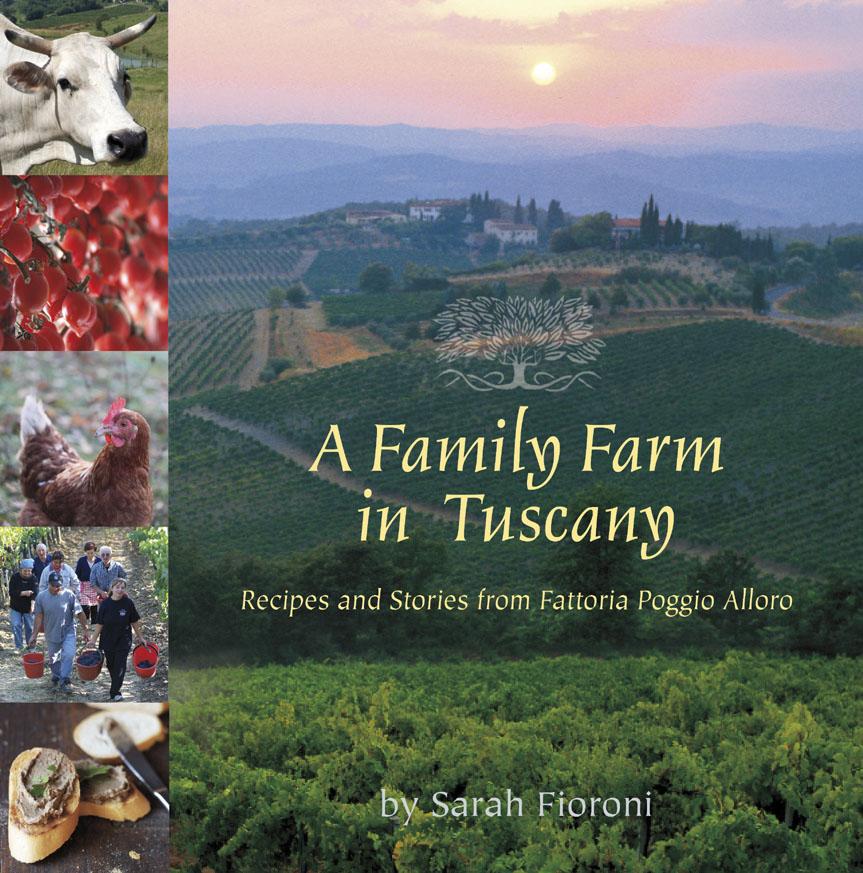 In A Family Farm in Tuscany, Sarah Fioroni, chef, cooking instructor, sommelier, and manager of her family's organic farm near historic San Gimignano, shares stories of family traditions and daily life at Fattoria Poggio Alloro. After moving to the farm in 1955 to work as sharecroppers, the Fioronis later purchased the farm through their hard work and dedication to the land. They transformed the property into a model of integrated, sustainable agriculture that has been visited by government officials from all over the world and featured in numerous publications, including Organic Gardening magazine.
Three generations of Fioronis continue to work the land using age-old practices, growing a bounty of fruits, vegetables, and cereal crops, such as wheat for pasta, olives for extra-virgin olive oil, and grapes for their award-winning wines. They also keep bees, produce saffron, and raise chickens, Chianina cattle, the prized traditional Tuscan breed, and pigs, the basis of homemade prosciuttos and salamis.
In addition to her engaging anecdotes that reveal how life at Poggio Alloro changes from month to month, Sarah shares more than fifty traditional Tuscan recipes that are prepared daily in the kitchen using the farm's seasonal ingredients—from hearty winter dishes to salads and risottos featuring garden vegetables to holiday breads and desserts.
The farm is also a popular agriturismo destination, giving visitors an opportunity to stay overnight, participate in various farming activities, and revel in the tastes of freshly prepared food and artisanal farm products, all in a relaxing, scenic environment that is captured by the book's hundreds of color photographs.
Open the pages of this book and visit Poggio Alloro from your favorite chair, then prepare the recipes and experience the taste of Tuscany in your own home.

ISBN 9780940672883
240 pages, 8.25" x 8.75"
Over 300 color photographs
Tradepaper with flaps, $24.95
Publication Date: April 1, 2012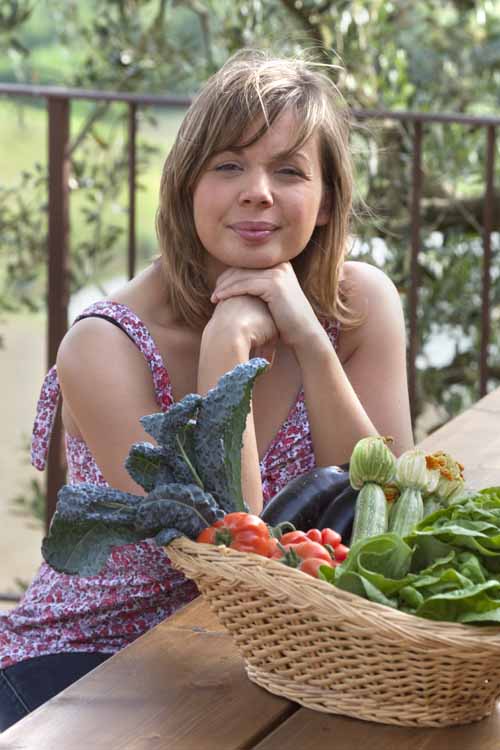 Sarah Fioroni, a native of San Gimignano, has worked full time at Fattoria Poggio Alloro since her graduation from high school. Now the farm's general manager and executive chef, she is also an AIS-certified sommelier, president of the Associazione Strada del Vino Vernaccia di San Gimignano, and a certified teacher for the Fattorie Didattiche program for schoolchildren. In addition to studying tourism and the economy at the University of Florence, she teaches cooking classes at the farm and in the United States, where she often appears at food and wine events to conduct demonstrations and workshops. Interviews with Sarah have appeared in newspapers, magazines and on television in many countries.
Photo by Dario Fusaro, courtesy of Organic Gardening
Schedule for Sarah Fioroni
October 28, 2012 Texas Book Festival, Austin, TX
November 1, 2012, Central Market Cooking School, San Antonio, TX
November 2, 2012, Central Market Cooking School, Austin, TX
November 3, 2012, Central Market Cooking School, Houston, TX
November 7, 2012, Central Market Cooking School, Southlake, TX
November 8, 2012, Central Market Cooking School, Fort Worth, TX
November 9, 2012, Central Market Cooking School, Dallas, TX
November 11, 2012 Lush Wine and Spirits 2232 W. Roscoe, Chicago, IL, 3-5 p.m. 773-281-8888
November 12, 2012 Knightsbridge Wine Shoppe, 824 Sunset Ridge Road, Northbrook, IL, Time TBA, 847-498-9300
November 13, 2012 Tuscan Market & Wine Shop, 141 W. Wing St., Arlington,Heights, IL 6:30-8:30 p.m. 847-392-9700
November 14, 2012 Osteria Papavero, 128 E. Wilson Street, Madison, WI Dinner and book signing 608-255-8376
November 16, 2012 Algonquin Club, 217 Commonwealth Ave., Boston, MA Dinner and book signing 617-266-2400
November 17, 2012 The Vault, Lewiston, ME 2-5 p.m.
November 17, 2012 Aurora Provisions, Portland, ME 6-8 p.m.
November 19, 2012 Portsmouth NH to be announced
November 19, 2012, The Wine Society, Nashua, NH